Final Burn Legends is a port of Final Burn Alpha 2.99.07 to the Xbox.
It also includes parts of FBA-XXX Pro 1.29. Support for over 2700 games. Some games are not playable anywhere else on the Xbox.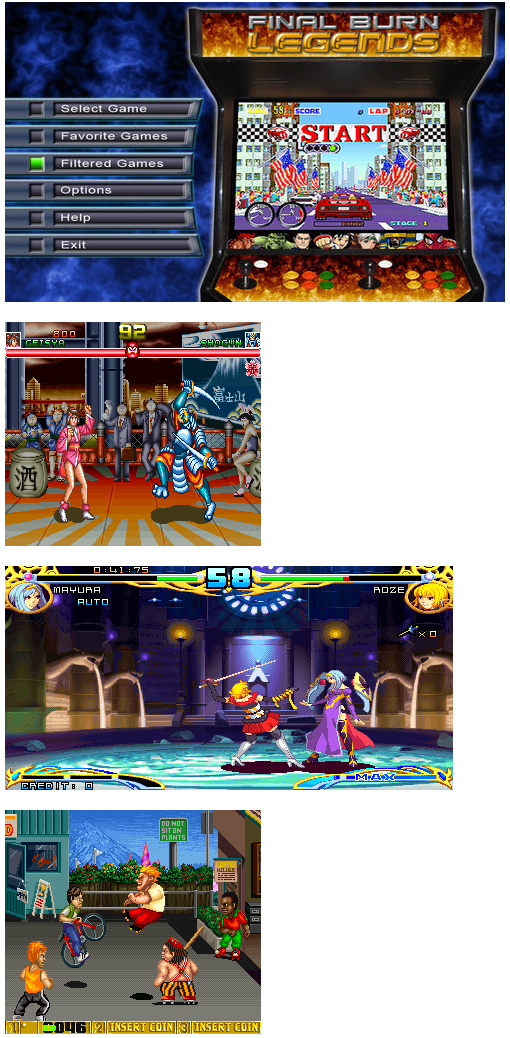 ---
Que novedades incluye la versión
1.25
See changelog
Released
new games now supported
Alien Arena
Alpine Ski
Bio Attack
Blaster
Bubbles
Colony 7
Defender
Elevator Action
Frontline
Highway Race
Jin
Joust
Jungle King
Kick Start - Wheelie King
Mayday
Pirate Pete
Robotron 2084
Sea Fighter Poseiden
Sinister
Space Cruiser
Space Seeker
Splat!
Stargate
The Return Of The Jedi
The Tin Star
Time Tunnel
Water Ski
Wild Western
games now fixed
games now with full sound and music
Deroon DeroDero
Toukidenshou - Angel Eyes
improvements
Atari Pokey Sound
FBL now supports the latest Pokey soundcore from FBA which nets us some nice sound fixes and improvements for all the Atari games which use it.

Taito C-Chip MCU
Operation Wolf has finally had it's protection MCU dumped and read out and as a result the emulation of this game can now be considered 100% in FBL
fbl fixes
Fixed Dragon Gun so it now works in FBL
Fixed Metal Freezer Difficulty DIP Settings
fba devs ported to fbl
Added ProcessAnalog() to the joyprocess device [dink]
Hook up real C-Chip for Operation Wolf and remove the C-Chip simulation code [dink, Caps0ff]
Un-break Twin Hawk / Daisenpu (regression from C-Chip updates) [dink]
Added per-chip routing and volume to the Pokey chip [dink]
Port and create interface for YMF262 FM soundcore [dink]
Hook-up YMF262 to Tecmosys, adding sound for Deroon DeroDero and Toukidenshou - Angel Eyes [dink]
Fixed loop sample stop issue in YMZ280b, which caused glitches in Tecmosys games [dink]
new drivers ported to fbl
Added driver for games on Taito's SJ System [iq_132, dink]
Added driver for games on Williams 6809 Hardware [iq_132, dink]
Added driver for The Return Of The Jedi [iq_132, dink ]
New Game Additions / Updates To Existing Drivers Ported From FBA
Added Deroon DeroDero (Newer Set) english text to the Tecmo SYS driver [gamezfan]
created new marquees for....
Alpine Ski
Blaster
Bubbles
Colony 7
Defender
Dragon Gun
Eagle Shot Golf
Elevator Action
Frontline
Joust
Jungle Hunt
Jungle King
Kick Start - Wheelie King
Return Of The Jedi
Robotron
Sinister
Splat!
Stargate
Storm Blade
Time Tunnel
The Tin Star
Wild Western