It's a Collection Of Mods that Changes the PS3 System Look:
PS4 Boot Sounds
PS4 GameBoot Sounds
PS4 XMB Sounds
PS4 PS Store Icon
PS3 4K Pro Boot Logo
PS3 4K Pro GameBoot Logo
PS3 4K Pro System Texts
PSP Wave Background
PSP Colors Background
PSP System Colors
Added Facebook Icon under Network
Added Reboot Icon under Users
Added PS3 4K Pro Theme under Themes
Added 2160p Resolution Option in Output Resolutions.
Added PS3 4K Pro Logo in About Game Options
Added PS3 4K PRO in System Credits
Added Boost Mode
Added Side Menu Animations
Added Buttons Animations
New Battery Level Indicators

Full = Green, Half = Yellow, Weak = Orange, Empty = Red

New Controller Indicators

1 = Red, 2 = Blue, 3 = Green, 4 = Yellow)

New Notification Background
New Icon for PSN
New Icon for Throphies
New Icon for Online Folder
New Icon for My Games
New Icon for File Manager
New Icon for RetroArch XMB
New Icon for Pkg Launcher
New Icon for PSP Launcher
New Icon for MultiMan
Translated Debug Options for All Languages
Translated System Reboot for All Languages
Priority Apps Bubbles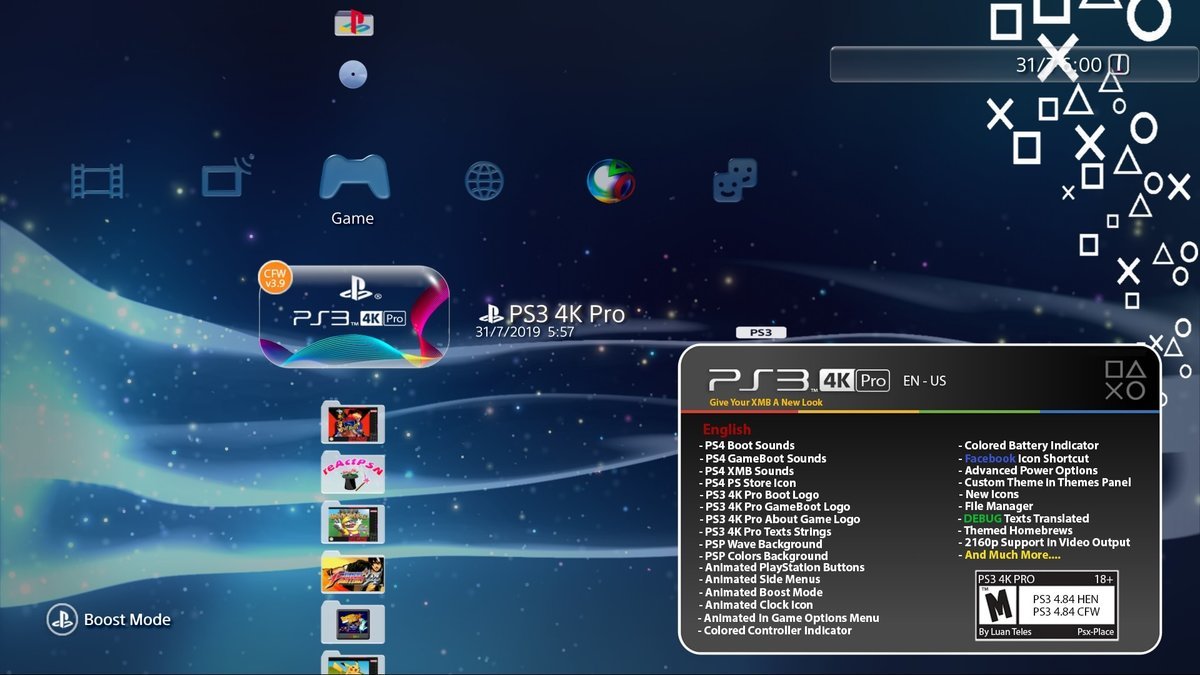 ✮ How to Install ?
- Just Install the PKG File and Launch It
★ How to Unistall ?
- Just Launch the PKG file and Choose Backups and Restore
Notes
- To See the Homebrews New Icons You Need to Have RetroArch, PSP Launcher, PKG Launcher and Multiman Installed, not included in the Mod.
- Set Priority for RetroArch, PSP Launcher, PKG Launcher and Multiman after Installing will be Located in File Manager -> Package Manager -> Downloaded Content.
- After The Installation Go to System -> Themes and Apply the PS3 4K Pro Theme.
- It includes Lastest Webman MOD Enabled by Default, so if you use another Plugin to load your games, you need to reinstall it.
- It is not compatible with CCAPI in DEX Mode, CEX works fine
 
---
Que novedades incluye la versión
5.1
Released
5.1
Added: PSP™Remasters now shows under PSP™ Folder.
Improved: Webman Updated.
Improved: Uninstaller Changes for Avoiding Next Installation Errors.
Fixed: PS2™ Game Playback.
5.0
Added: Automatic Enable HEN to HEN Enabled after a XMB Reload.
Added: BD/DVD .ISO Folder in Video Column (Requires WebMan).
Added: Built-in Uninstaller.
Added: Clear History in PlayStation™Network Column.
Added: Custom HEN for Categories to Reload after Enabling it.
Added: Customization Options.
Added: DECR Firmware 0.90.002 and Classic PSN User's Avatars.
Added: Flash Games.
Added: Gameboot Sound for HEN.
Added: Headset Game Sound for HEN.
Added: Improved Wave Particles for HEN
Added: Install/Delete Packages Top Bar Headers
Added: More Stars in Gaia Music Player Visualization.
Added: New Browser Side Menu Animations.
Added: Browser Funcions Top Bar Header.
Added: New Effect in Canyon Music Visualization.
Added: Online Radio.
Added: Online Wallpapers in Photo Category.
Added: PlayStation®Store Icon Now Shows Options to Launch The Original Store or Unofficial Stores Downloaded Via External Sites.
Added: PlayStation™Network Access in PlayStation™Network Column.
Added: PS3™ OFW 1.00 Blur Effect.
Added: PS3™ System Language Flags.
Added: PS3™/PS2™/PSX™/PSP™/Retro™/XMB™ Game Format Folders in Game Column.
Added: Security System.
Added: Soft Brick Protection for Missing xmls.
Added: Support for 4.84, 4.85 and 4.86 HFW.
Added: Support in Network Column.
Added: Update directly on XMB™.
Added: User interaction on XMB Affects the Particles.
Added: XMB Screenshot Category and Button Combo.
Added:Online Chat Between PS3™ 4K Pro Users.
Fixed: Rebuild Data Base Missing Text.
Fixed: User Category Side Menu and Rebuild Database Texts in English UK.
Fixed: Video & Game Gameboots Texts Position on Resolutions Below FHD.
Improved: Anime Reader Website Provider Changed.
Improved: Boost Mode Now Has Been Translated to All Languages Like The Official PS4™ One.
Improved: Debug System Update Settings Translated to All Languages.
Improved: Emojis and System Buttons Remastered from PS4™ and PS Vita™.
Improved: File Manager with tons of New Options.
Improved: HEN Behavior.
Improved: HEN Icon.
Improved: HEN Logo Script.
Improved: HEN Supports Now, All The CFW Custom SPRXs, a XMB Refresh is Needed.
Improved: Loading Speed to Scan Online Music/Podcast/Videos/TV Installed Items.
Improved: Online Music/Podcast/Videos/TV Features are Disabled on In-Game XMB.
Improved: PS3™ 4K Pro Logo and Boost Mode Now Only Appears on The XMB.
Improved: The Default Wave on The Music Player Visualization Now Follows The System Color Preset (CFW).
Improving/Updating File Manager Follows System Language. (7 of 20 languages supported by now).
Removed: USB Online Music/Podcast/Videos/TV Features are Disabled for Faster Scan Times.
4.9
Added: Different Gameboots for Games and Videos (CFW).
Improved: Screen Saver Icon.
Fixed: Missing In-Game Custom XMB Icons.
Fixed: Reboot XMB Add-On Translations.
Fixed: Installer Texts After Installation (HEN).
4.8
Added: Support for Music/Video/Tv Online Features via Pkgs and External Drives.
Improved: System Error Messages.
Improved: Some Background Colors.
Improved: Many Under the Hood Changes.
4.7
Added: New Notification Icons for All Notifications / Trophies.
 
4.6
Added: Added: Version Logo Near the Clock.
Added: Animation in the Notification Icon.
Improved: PS4 Notification Icon.
Improved: Text Height in System Information.
4.3
Added: Top Bar Header in the System Shutdown Screen.
Added: Theme Preview Animated Frame Effect.
Added: PS Vita™ DVD Controls Background.
Added: PS Vita™ BD Controls Background.
Added: New Gameboot Animation to non Games Aplications such as DVD/BD and Other OS.
Fixed: Themes Side Menu Petals Animation Off-Screen.
Fixed: Debug Settings PT-PT Translation.
4.2
Added: Top Bar Header in the Information Screen.
Added: Top Bar Header in the Package Installer Screen.
Added: Top Bar Header in the Impose Screen.
Added: Web Browser Side Menu Animation.
Improved: Removed the Junk Pixels Around the PS Logo on Boost Mode.
Improved: Boost Mode Font Size Increased.