nesa24app is memory patcher app
in this package there is no tool update just module update for PES 2020.
Run game
Set camera to custom/wide/stadium
Run app
[you switch profiles pressing assigned button]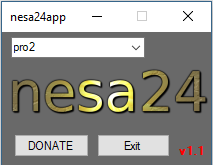 Please read manual if you havent.
Tool is made 2 years ago and it will work for next 10 years if you get to know it
Wait for sider...
by nesa24.