If you don't know what this is then you've been missing out on a really useful tool.
It includes an AP Patch Database which will is regularly updated by RetroGameFan and you can even view information for valid roms that are found right here on ds-scene.net.
The latest addition to the DS-Scene Rom Tool is a partnership with the CMP team. The application will now check for regular updates of the CMP Cheat Database (the largest and most complete DS cheat database on the web) all totally free of charge of course!
The tool has had some extensive reworking since the last build any many bugs have been ironed out. If you are using an old version of the tool then we highly recommend you update to this version. There's really too many changes been made since the last re-dist pack to list here so please check the changelog provided within the application or the comments section below for more information.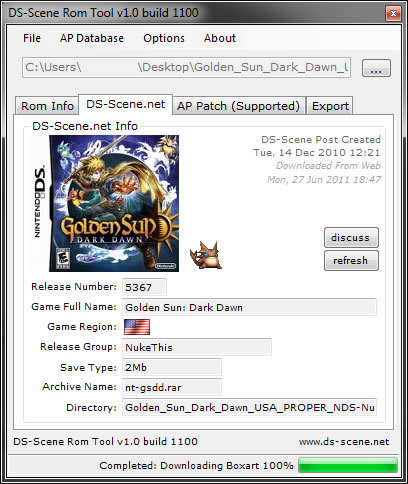 Some of the menus have changed slightly in this version as they were getting a bit messy, please take your time to familiarise yourself with the new options. 
Included is RetroGameFan's latest AP Database v2.1.7.
NOTE : Open the tool and click on Databases/AP Database/Update Alerts/ and make sure that Enable Update Alerts is not ticked, so you don't get nagged anymore
Requirements :
Windows with Net Framework 4
~50mb RAM
Functions :
Basic DS rom header information
Extract rom icon (png)
Trim rom
AP patch roms using an auto updating database
Check for updates of the CMP Cheat Database
Auto updates for the application itself
Uses open patch format patches that can be extracted
Download information from DS-Scene.net
Supports AP Patching of 1032 games currently.