It has many functions similar to that present in a full CFW. It allows you to run homebrews like Movian, multiMAN or ManaGunz, and also supports loading plugins like webMAN Mod or FTP server support.
 
The HEN is not a complete CFW, indeed multiMAN and other homebrews work, but do not have all the same features as those present on a real CFW.
 
How does it work :
Install HAN Enabler. Copy PS3HEN.BIN, HENTAI.pkg and stackframe.bin into / dev_usb000 and run the HTML.
Once done, go to Package manager and install the file HENTAI.pkg and reboot the console.
Now, to enable HEN, just use usb000 stackframe.bin and PS3HEN.BIN and launch the HTML ... HEN is activated!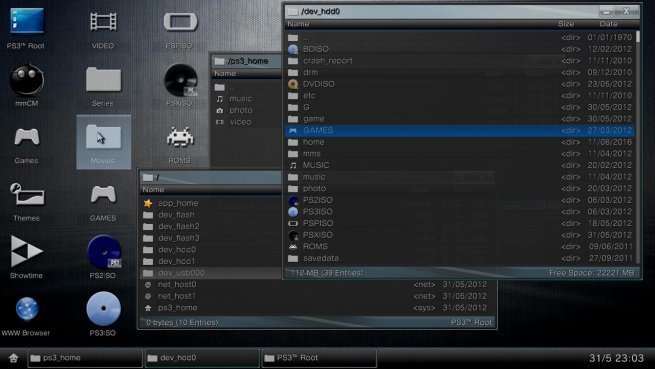 Features:
The ManaGunz backup manager works better with the file format (ISO not supported)!
MULTIMAN also works, but the compatibility is not the same.
PSXISO support is here !!!!
BD / DVD region patch
BDISO support
BOOT-PLUGINS works at the position "/dev_usb000/boot_plugins_nocobra.txt" (it also disables startup content scanning in the parameters)
Discless games work with the disc icon!
Syscall 6 added
Syscall 7 added (address> 0x8000000000352230) and overwrite the disabled system call 0-> 15
Syscall 15 added
Added Syscall opcode 8 for HEN detection and advanced poke lv2 (read the DEVELOPER section)
All kernel memory Rescrivibile (run the kernel load like this in high positions or pick up system calls, etc.)
PS3MAPI support for modding
Debug PKG
Homebrew support for 3.55 or less!
Homebrew Root Flags enabled!
Support for HAN PKG
PSN Connectivity
All processes running after HEN have rewrite permissions!
HAN enabled by default!
---
Que novedades incluye la versión
3.0.1
Released
3.0.1
HEN Plugin Changes
Payload Changes

Updated To Support 4.86 HFW
COBRA PS3MAPI Changes (thanks to TheRouletteBoi)

Added a better set process memory by using the function used to actually write to process, this will allow user to write to memory where writing permissions are disabled.
Added ps3mapi_process_page_allocate this function will allocate memory into the eboot process allowing your to write/read/execute code into start_address parameter
Added ps3mapi_get_process_module_info which will get the name, module path, module segments, module start and module stop address all in one function
Added ps3mapi_create_process_thread to create thread into the process, This is useful if you want to load a small function into the process without needed make and load a sprx module
3.0.0
This version does not support the firmware 4.82 anymore.
Fixed the freeze problem if the DVD or CD was already inserted into PlayStation 3 when HEN is enabled.
Error message displayed if the length of the server response is too short.
Fixed frost problems on all models.
Fixed problems with incompatible models.
Improved integrity checks.