That will allow you to easily download free all Nintendo Switch games directly to your device without a PC.
 
The games come with the abilities to play online, but the risk of ban is immediate, so do not play online.
Powered by Tinfoil.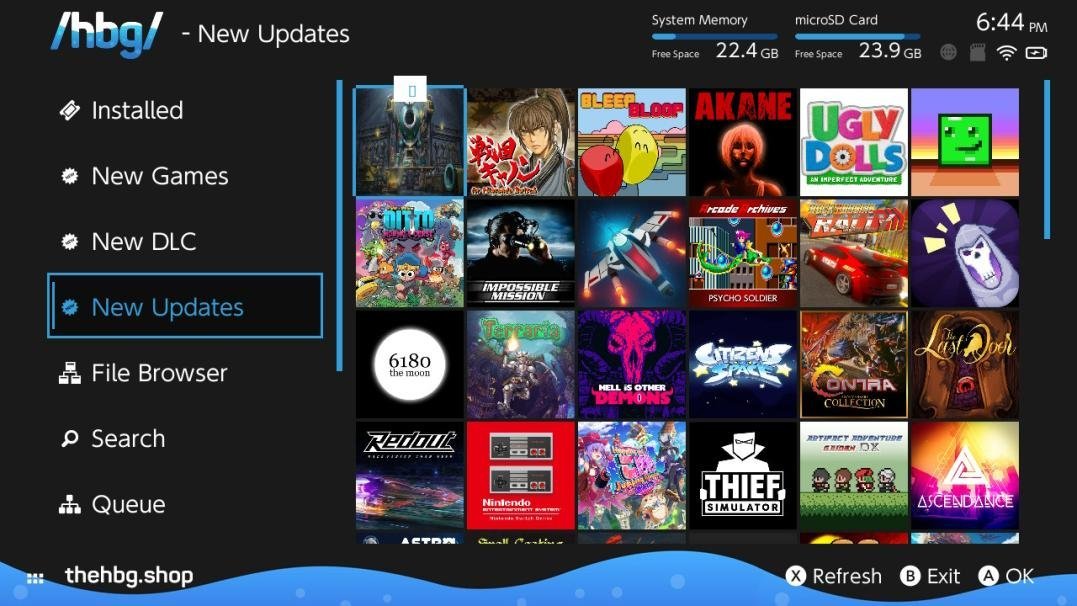 ---
Que novedades incluye la versión
7.0.1b
Released
7.0.1b
7.0.1a
7.0.1
Misc fixes
Added Retroarch ROM launching
7.0.0c
Changed game save backup format to store game saves in zip files (much faster syncs to gdrive).
Disabled sleep when backing up all game saves.
Added ability to set comments on game save files.
7.0.0a
Added "Parental Mode" for filtering content and features for young children.
Improved gdrive support.
General font and translation improvements.
Added option to preload icons.
Added Help section.
Added "Recommended" section.
6.2.0
Fixed issue writing to gdrive (requires NUT/SXSERVER update)
Fixed issue creating dropbox directories
Fixed issue not being able to b-button-exit when using title override instead of forwarder
Removed tickets window
Fixed occasional crash when trying to install games that have corrupted metadata
Added more political messages
Fixed bug where update cache was never cleared. Manually delete sdmc:/switch/tinfoil/cache/ to upgrade using the built in installer (6.10 and earlier)
Added support for 9.1.0
Moved all DLC language packs to their own location to prevent this from happening. Disabled by default.
The zip includes latest vanilla atmosphere (0.10.1-71b220a4) + sigpatches + cheats disabled by default.
6.0.1d
This version is the same as the latest one but it includes the latest vanilla atmosphere (0.10.1-71b220a4) + sigpatches + cheats disabled. Old atmosphere fork is not needed anymore because of the recent atmosphere improvements. It fixes all the crashes that people were getting on this same version of tinfoil.
6.0.1a
6.0.1
Tinfoil changelog
Bugfixes (we highly reccommend to update to this version)
Added built-in updater (located in the Options tab)
Fixed a copypaste folder bug where it would past the foldername twice
Fixed overclocking in title mod
Added samba (windows file share) support. Syntax is smb://user:password@host/share/
Added ability to re-arrange locations.
Fixed USBHDD.
Included auto-install-forwarder and blocked applet mode due to memory constraints.
Added shutdown screen so you can safely exit the application from title mode.
Added support for "blocked" NSZ installation.
Automatically resets required version upon install and after uninstalling an update
Blocked the installation of all modified DLC and Updates with no way to bypass.
Improved rendering performance.
Fixed bug that allowed users to install 9.0 encrypted titles on lower firmwares.
Disabled remembering "standard crypto" option to prevent users from leaving that enabled.
Input is now accepted from all controllers, not just player one.
/hbg/Shop changelog
Fixed an issue with the SSL cert that was preventing Asus router users from accessing the shop
Added NSZs for all games as first download option
More mirrors added for all files
Normalized volume for all songs
Installation: Extract and copy all contents to the root of your SD, launch tinfoil.nro. Reboot your console. Deleting any older /tinfoil folder (if you have any) is recommended.
Extra notes:
Opening Album will open the vanilla AMS hbl.
Opening Album while holding L will open Mercury.