Features:
Datapack 6.0 Compatible
All teams 100 % updated with managers pictures, rivals, banners, kits (all 1024*1024), real stadium names.
Last transfers and last managers updated until April 23th.
All european licencied leagues 
Created european teams (Crvena Zvezda, Partizan, Red Bull Salzburg , Viktoria Plzen)
Bundesliga
All south america licencied leagues (Argentina, Chile, Colombia)
Liga MX
Copa Libertadores teams (+ 2 promoted Chilean teams: Cobresal and Coquimbo Unido)
Brasileirao
Chinese League
Thai League
J-League
AFC licencied teams
Asian created teams (Al Ittihad, Al Nassr, Melbourne City, Western Sidney, Pohang Steelers, FC Seoul, Brisbane Roar, Adelaide United, Pakhtakor Tashkent, Shabab Al Ahli, Al Ahli Doha, Perth Glory, Wellington, Auckland FC, Ittihad Kalba, FC Sepahan, Newcastle Jets, Qatar SC, Al Zawraa, Al Shorta, Padideh FC)
National teams 
Classic teams (European and World)
All competitions
FOLLOW THE INSTRUCTIONS:
If you ever have an OF, first, delete all the images and savedata file for a fresh install of V6.
Before to download the OF, do all the Konami DLC .
Don't do Live Direct updates because all teams are now fixed.
Then, copy the OF (all teams by checking 2nd and 3rd box)
You have to copy the competitions with files .ced (check 2nd and 3rd box)
Finally After the copy of the OF, in Edit Mode, Competitions Format, choose number of teams for these leagues:

Bundesliga : 18 teams
Liga MX: 18 teams
J-League: 18 teams
You have to remove manually some teams in their good league:
Some Bundesliga teams
Some Japanese teams
The fake duplicate asian teams (buriram united, guangzhou evergrande, shanghai shenhua, shanghai sipg, tianjin quanjian) in others asia.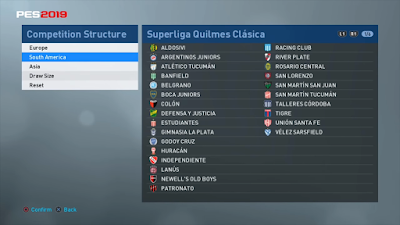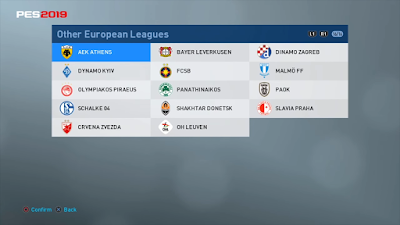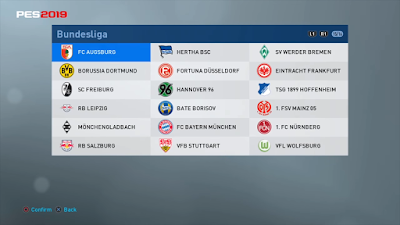 CREDITS (until December 2018)
European licencied teams: PesWorld and rework by barca4ever /Nicoultras
Bundesliga : PESWorld and rework by barca4ever/Nicoultras
Partizan, Crvena Zvezda : barca4Ever
Viktoria Plzen : DuckNO.99
Brasileirao : Emerson Pereira and rework by Nicoultras
Copa Libertadores: JuanIgnacioSP and rework by Nicoultras
Argentina League: rework by Nicoultras
Colombia league: PES Colombia and rework by Nicoultras
Chilian League: rework by Nicoultras
Liga MX : Erzo77 and rework by Nicoultras
Japan J-League : Niko Albiore
AFC licencied teams: Nicoultras
Chinese League: Nicoultras
Thai League: Nicoultras
Asian created teams: SchitzoPhonic, Killacarrillo , Gustavo Levy, barca4ever (kits A-League teams by PesWorld) and rework by Nicoultras
National teams: PESuniverse and WWEFand reworked by barca4ever and Nicoultras
Classic teams: Emerson Pereira
CREDITS (since January 2019 until June 2019):
Barca4ever (Partizan, Crvena Zvezda, Bundesliga, Asiatic teams, Chinese League)
Nicoultras (all new managers, RB Salzburg, Viktoria Plzen, Copa Libertadores teams, Liga MX)
Emerson Pereira for Brasileirao (reworked by Nicoultras)
J-League by NikoAlbiore
---
Que novedades incluye la versión
v6
See changelog
Released
No hay lista de cambios disponible para esta versión.