Universal Media Server is a media server capable of serving videos, audio and images to any DLNA-capable device.
It is free, regularly updated and has more features than any other media server, including paid media servers.
It streams to many devices including Sony PlayStation 3 (PS3) and PlayStation 4 (PS4), Microsoft Xbox One and 360, many TVs (Samsung, Panasonic, Sony, Vizio, LG, Philips, Sharp), smart phones (iPhone, Android, etc.), Blu-ray players, and more.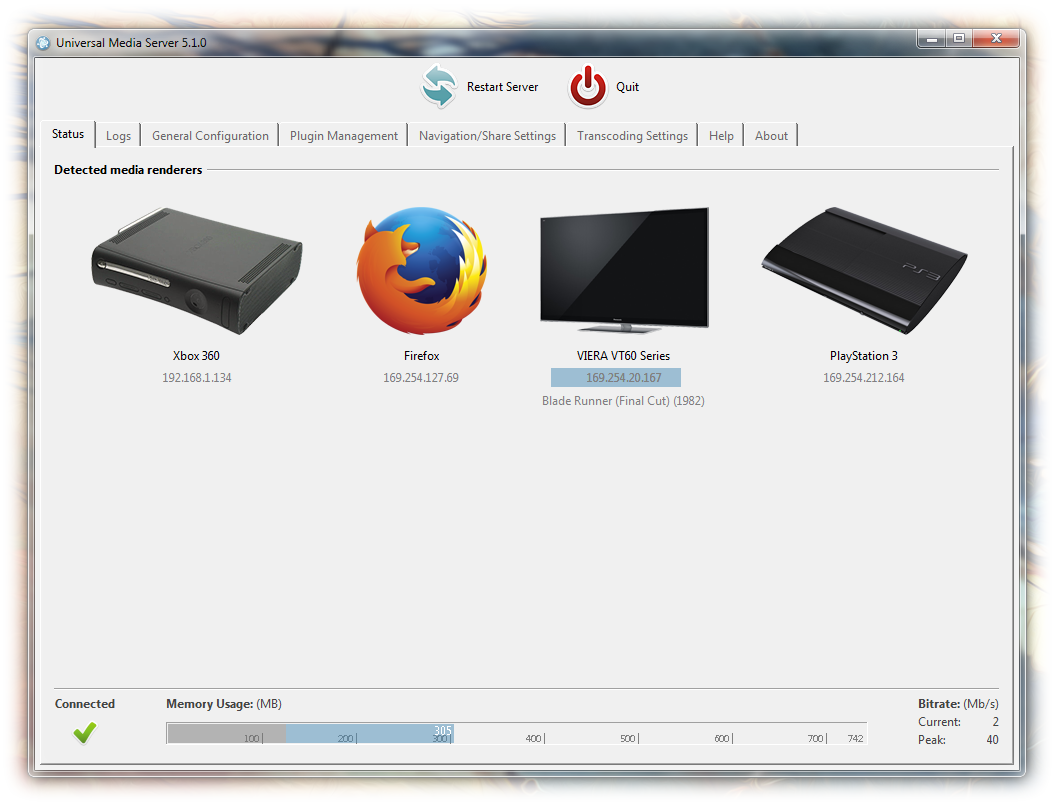 ---
Que novedades incluye la versión
9.3.1
See changelog
Released
9.3.1
General:

Updated build documentation in BUILD.md (thanks, luca-vercelli!)

Renderers:

Fixed too much transcoding on Samsung 9 series TVs
Fixed WAV support on PS3

Translation updates via Crowdin:

Arabic (36%)
Serbian (87%)
Slovenian (60%)
9.3.0
General:

Added support for devices that require MRR authorization, like Denon AVR devices (thanks, sc3141)
Added support for symlinks in the folder selector
Fixed subtitles being transcoded unnecessarily
Fixed compiling on new OpenJDK versions
Improved support for audio files
Improved parsing of uncommon files
Fixed attempting to add empty files
Added some regression testing for our use of FFmpeg and MediaInfo

Dependencies:
9.2.0
General:

Added more precise support for subtitles in renderer profiles. See the si and se options in DefaultRenderer.conf.
Fixed uninstallation of Windows service (thanks, pponce!)
Use secure connections for program updates (thanks, xaitax!)
Fixed startup on Linux using ARM processors (thanks, felsen2011!)
Logging improvements

Renderers:

Added support Sony BRAVIA AG series TVs (thanks, rubin55!)
Improved support for 2019 Samsung TVs, including 8K streaming
Improved support for Panasonic GX800B

Translation updates via Crowdin:

Chinese Traditional (100%)
Croatian (44%)
Danish (100%)
English (United Kingdom) (3%)
Hungarian (71%)
Korean (33%)
Slovak (100%)
Slovenian (60%)
Swedish (97%)

Notes:

The Windows releases work on Windows Vista onwards.
9.0
General:

We no longer require Java installation on any operating system
Adds UMS to Windows Firewall exceptions on install
Added new renderer setting vbd (video bit depth) to allow filetype-specific bit-depth support configuration
Fixed filename prettifying not displaying episode names and other related problems
Fixed the PrependTrackNumbers renderer setting (thanks, tcely!)
Fixed transcoding when using our Docker image (thanks, tcely!)
Fixed startup crash when invalid characters are in the OS Path
Fixed adding unsupported files to the database

Renderers:

Improved support for TrueHD videos on Samsung UHD TVs

Languages:

Fixed broken "hide engines" string
Updated translations via Crowdin:

Chinese Simplified (100%)
Chinese Traditional (94%)
Croatian (20%)
Czech (100%)
Danish (89%)
Finnish (32%)
French (100%)
German (100%)
Hungarian (68%)
Italian (98%)
Japanese (100%)
Norwegian (89%)
Polish (100%)
Portuguese (Brazilian) (100%)
Romanian (100%)
Russian (93%)
Slovak (88%)
Spanish (96%)
Swedish (93%)
Thai (11%)

Dependencies:

Updated Chromecast api-v2 to 0.11.0
Updated fm.last coverartarchive-api to 2.1.1
Updated Git Commit ID Plugin to 2.2.4
Updated icu4j to 64.2
Updated JNA to 5.3.1
Updated JUnit to 5.2.0
Updated Maven Compiler Plugin to 3.8.0
Updated Maven Enforcer Plugin to 3.0.0-M1
Updated Maven Javadoc Plugin to 3.0.1
Updated Maven Site Plugin to 3.7
Updated Metadata Extractor to 2.12.0 for improved image parsing performance
Updated Oshi to 3.13.3
Updated Surefire to 2.22.2