DS GameMan is an easy to use open-source game manager.
Tips:
Press "Insert" to open the console.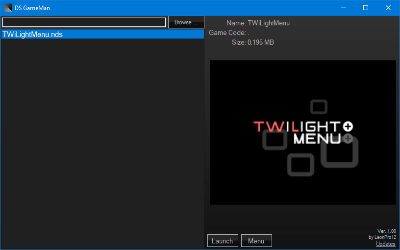 Caution!:
This program is NOT supporting piracy.
Only use this program with homebrew/the games you legally dumped and own!!!
by LeonPro12.
---
Que novedades incluye la versión
1.02
Released
1.02
New logo.
Update reminder.
Code optimisation.
Change design (minimal).
Some bugfixes.
Other small changes.
??? Find the easter egg! ???.
1.01
Diashow Mode.
Custom theming engine.
Option to refresh list.
New green theme.
Fixed a lot of bugs.
Other small changes.