DS4Windows es una aplicación que nos permite obtejer la mejor experiencia posible con el DualShock 4 en PC gracias a que emula como si fuese un controlador de Xbox 360, haciendo los juegos mucho más accesibles.
Este proyecto es un fork del trabajo de Jays2Kings.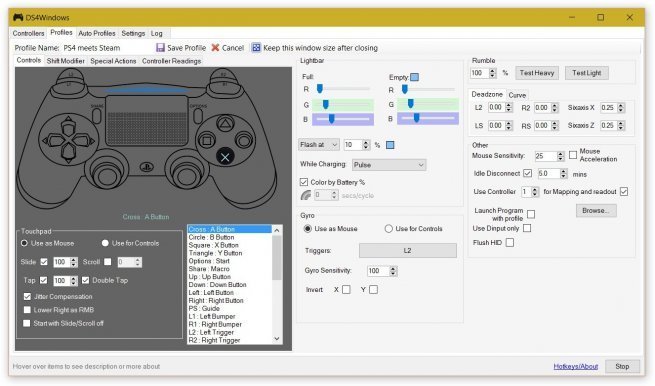 Requisitos de DS4Windows
Windows 7 SP1 o superior
Microsoft .NET 4.6.2 or superior (necesariio para descomprimir el driver para que los macros funcionen debidamente)
Visual C++ 2015-2019 Redistributable. x64 o x86
ViGEmBus driver (DS4Windows lo instalará por ti)
Sony DualShock 4
Método de conexión:

Cable Micro USB
Bluetooth 4.0 (via adaptador o incluído con el PC). Solo tiene soporte para Microsoft BT. CSR BT stack is confirmed to not work with the DS4 even though some CSR adapters work fine using Microsoft BT stack. Toshiba's adapters currently do not work.

Desactivar soporte de configuración y Xbox en las opciones de Steam.
Device Detection Issue
If your DS4 is not detected by DS4Windows and the lightbar continues to flash yellow, there is a chance that Exclusive Mode has permanently disabled your DS4 in Windows. The easiest way to test if this has happened is for you to plug in the controller into a different USB port and see if it works then. Although this problem mainly affected older versions of DS4Windows (text written after version 1.5.15) for various reasons, other mapping programs can cause the same problem to occur.
If you suspect that your DS4 has been disabled, open the Device Manager (Control Panel\Hardware and Sound\Device Manager) and look for devices listed under the path "Human Interface Devices\HID-compliant game controller".
Disabled Device Example
If the icon shown for a device has a down arrow icon then you should check the device's device instance path and see if the device is a DualShock 4 device. Right click the device item and select "Enable device" from the menu. That will re-enable the device and be seen by applications again.
Disable Steam Controller Mapping Support
With recent updates to the Steam client at the time writing this (2018-12-13), Steam has enabled Xbox Configuration Support in the Steam client by default. What this means is that Steam will automatically map a detected Xbox 360 controller to KB+M bindings initially (Desktop Mode) before launching Steam Big Picture Mode or launching a game. This presents a problem for DS4Windows since the created virtual Xbox 360 controller will be mapped to KB+M actions for desktop mode and games launched outside of the Steam client. In order to use DS4Windows properly, you have to open Steam Big Picture Mode, navigate to Settings > Controller> Controller Settings and uncheck Xbox Configuration Support along with PlayStation Configuration Support.
by Ryochan7.
---
Que novedades incluye la versión
3.0.17
Released
Se agregó un campo DS4 FrameCounter falso para dispositivos DualSense, Switch Pro y JoyCon
Aumento del tiempo de desconexión inactivo predeterminado a 15 minutos
Soporte de emulación de controlador DS4 deshabilitado. No puedo tener cosas bonitas
Solo realice la búsqueda de ranuras de salida en la rutina del complemento de dispositivo virtual al emular un controlador
Verifique el estado de eliminación del dispositivo antes de agregar el dispositivo a la lista de vista principal. Corrige la desconexión inicial de Switch Pro en hotplug cuando la batería del controlador está muerta