HBUpdater is a one-stop-shop for managing and updating your Nintendo Switch Homebrew!
Includes a lot of popular homebrew
Tracks which homebrew version you have installed
Downloads directly from github
Add your own github repos
No longer visit 17.53 different places to make sure you have the latest version of everything
Blawar NUT server integration
Easily install past versions of homebrew
Planned Features:
Firmware Manager (I want to be really careful with this one)
Default SD Location
Version 1.0 will hopefully be compatible with vgamoose's Homebrew Store
How to use:
Windows:
Extract HBUpdater.zip
Install python
Double-click startHPUpdater.bat
Macintosh:
Extract HBUpdater.zip
Mac users may already have a compatible version of python installed, try double-clicking HBUpdater.py --If the file opens in a text reader, close the reader and right-click the file and open it with pylauncher
If this still doesn't work, install python
Linux:
Extract HBUpdater.zip
Navigate to the directory in a terminal
Type "python HBUpdaterGUI.py"

If you are missing dependencies do the following:
sudo apt-get install python3 python3-pip python3-tk

If you don't know how to do this you should probably be using Windows.
by LifeOnEdge.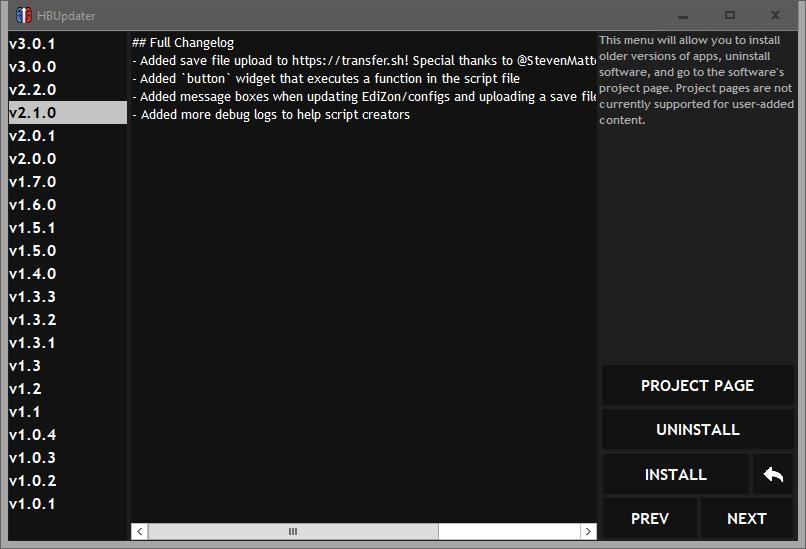 ---
Que novedades incluye la versión
2.4
Released
2.4
2.3
fixed bug displaying injector banner, less bold text
reduced package image pop-in, and fixed images missing on screen load due to insufficient padding
Added settings system, settings page, added on-the fly tile size adjustment
Updater failing to get update file no longer causes crash
Falls back on old repo json when new one unavailable
Added multiple maximization settings (Normal/Fullscreen/Maximized)
Added setting to keep window topmost
Fixed searchbar and dropdown padding in main page