Hay algo que hace consumamios mas tiempo del requerido cuando instalamos alguna version de windows y es el ir instalando despues controladores, Servide Pack o parches o hasta el extremo de ir quitando programas como los juegos de windows o la contestadiora telefonica.
Asi que gracias a estas herramientas de las que ya hemos hablado en alguna de ellas es posible crear nuestro propio disco de instalacion personalizado, agregando o removiendo partes como controladores, programas, numeros de serie, configuraciones regionales, etc, etc. Haciendo mas rapida, comoda y utilizable al instante esa flamanmte instalacion comopleta del sistema Windows.

nLiteOS
: Para sistemas Windows 2000, XP [x86/x64] y 2003 [x86/x64]. Necesita FrameWork 2.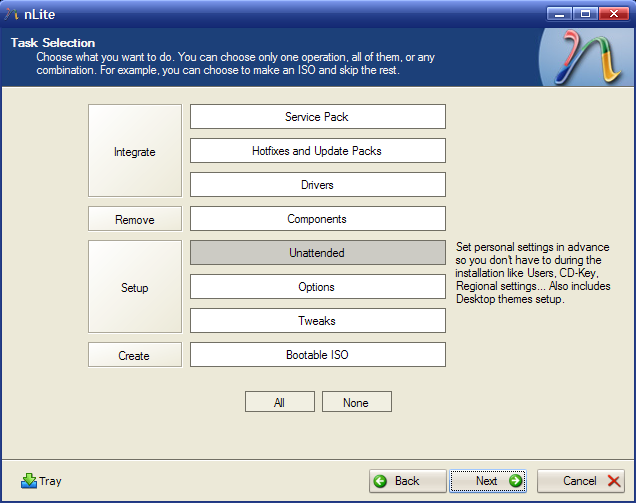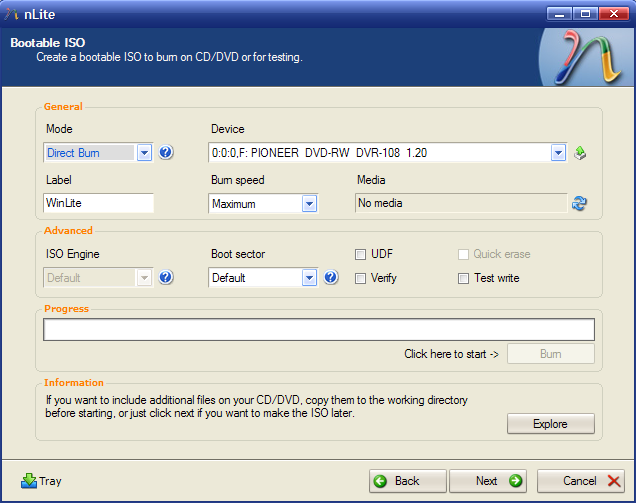 Cita
Features

* Service Pack Integration
* Component Removal
* Unattended Setup
* Driver Integration *
* Hotfixes Integration **
* Tweaks
* Services Configuration
* Patches ***
* Bootable ISO creation


* - Textmode (CD Boot) and normal PnP
** - hotfixes with white icons, *KB*.exe, including update packs
and Internet Explorer 7
***- supports generic SFC, Uxtheme, TcpIp and Usb Polling patching.

Pagina oficial:
http://www.nliteos.com/nlite.html
vLite
: Para sistemas Windows Vista [x86/x64]
Cita
Main features are:
* hotfix, language pack and driver integration
* component removal
* unattended setup
* tweaks
* split/merge Vista installation CDs
* create ISO and burn bootable CD/DVD
Windows Vista from Microsoft takes a lot of resources, we all know that. vLite provides you with an easy removal of the unwanted components in order to make Vista run faster and to your liking.
This tool doesn't use any kind of hacking, all files and registry entries are protected as they would be if you install the unedited version only with the changes you select.
Pagina Oficial:
http://www.vlite.net/
Proximamente para Windows 7 pero disponible en etapa Alpha y beta.
Win7 Integrator
: Para sistemas Windows Vista SP1, Server 2008 R1/R2 y Windows 7. Aun en etapa alpha pero promete mucho esta herramienta. Requiere FrameWork 4 cliente y el kit de instalacion automatizada de windows 7 -de poco mas de 1GB de descarga-.
Cita

Features:
• Bootable Iso Image Creation
• Image Rebuilding

with a Windows 7 or Windows Server 2008 R2 Image
• Driver Integration including Bootcritical-Option if you need a Driver to Install Windows
• Package Integration (Updates, LocalPacks and LanguagePacks)
• Package Removing
• Preset Creation
• Windows Feature Enabling and Disabling

with a Windows Vista SP1 or Windows Server 2008 Image
• Package Integration (Updates and LanguagePacks)
• ServicePack 2 Integration into a original MS DVD or Image with SP1


Pagina:
http://www.msfn.org/...or-t139748.html
7Lite:
Del mismo creador de nlite/vlite saldra esta herramienta para sistemas windows 7 y 2008 Server en versiones x86 y x64. Aun esta por confirmar si aparece como programa independiente o como una actualizacion de vLite 1.3.
7Customizer
: Aun en etapa temprana y de alpha por lo que aun aparece sin pulir la interfaz. Esta herramienta permite personalizar el disco de instalacion de sistemas Windows 7 y 2008 Server x86/x64.
Cita
Features:

1. Integrate languages
2. Integrate updates
3. Unattended Installation

Implemented but still needs testing:
1. Driver Integration


Pagina de desarrollo y discusion:
http://www.msfn.org/...139077.html&hl=