Quiza motivado por el tema de los Shaders y el Scheduller Asincrono de las radeon y sus mejores resultados sobre las geforce en el polemico test de d3d Ashes of the Singularity. Y tambien quiza influyera las declaraciones de algunos desarrolladores de OCulus [ y otros sistemas de lentes VR] de que el hardware de las Radeon es mejor para sus productos.
http://www.elotrolad...ia_2116509_s200
Segun la publicacion financiera Barron´s, AMD ha tenido un ligero aumento de ventas de sus nuevas tarjetas radeon de gama media y gama media-alta superando en ventas a nvidia en lo que va este ulotimo trimestre.
Cita
Graphics processor unit (GPU) pricing and availability suggest that AMD's (ticker: AMD ) recent R9 300 refresh has helped regain some lost share at about $400 and about $200 price points, while Nvidia ( NVDA ) maintains a dominant position in premium high-end GPU cards ($500-plus).

AMD's [rated at Neutral] pricing across recently refreshed tiers has been roughly flat fiscal-quarter-to-date (far better than historical average selling price (ASP) declines of high-single-digit percentage per quarter). However, AMD's flagship Fury X and Fury continue to have a very limited number of SKUs and are largely out of stock, suggesting that the pace of availability and ecosystem support is discouraging add-in-board (AIB) manufacture.

Nvidia [rated at Neutral] is seeing steeper ASP declines quarter-to-date, but they are still relatively modest versus historicals at low single-digit declines.

Solo hay que aclarar que se refiere solo a ventas en un X periodo de tiempo y no se trata ya del balance general de ventas y ganancias en lo que va del año, que para ver resutados tendremos que esperar a finales de este mes de septiembre para saber que tanto le beneficio a AMD y que tanto se acerco [o alejo] de su rival nvidia.
Esta es una grafica de la situacion del trimestre anterior.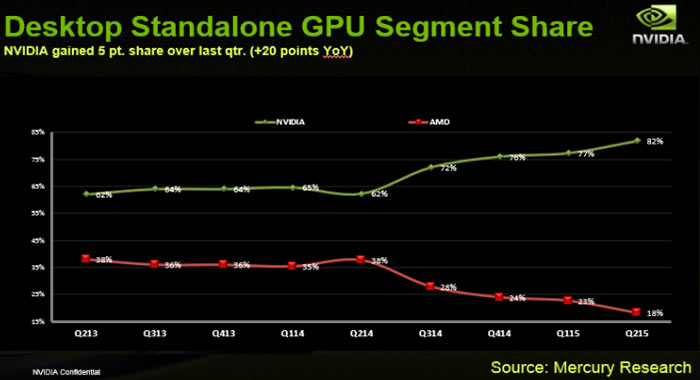 http://www.barrons.c...hics-1442258359
https://www.reddit.c...d_regained_gpu/
.