Últimos comentarios
Información del archivo
Añadido el: Dec 23 2013 23:27
Actualizado el: Dec 26 2015 13:49
Tamaño: 35.56MB
Visitas: 845
Descargas: 467
0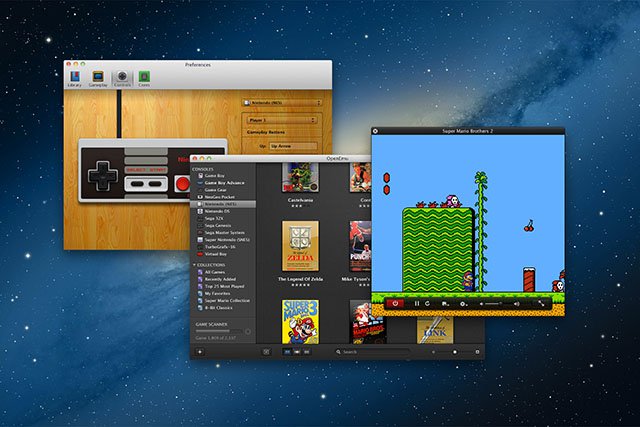 Features Overview
An exciting world of video games is within your grasp.
Library
One of the standout features of OpenEmu is how it organizes all your games into one unique, unified games library. Watch as backups of the games (ROMs) you already own are gracefully added to their appropriate library and box art is magically added. You can even create your own 'collections' mix and matched from different consoles.
Controls & Controllers
Any generic HID compliant USB or Bluetooth game controller should work with OpenEmu out of the box. OpenEmu now automatically maps controls for the following recognized devices in our database:
PlayStation Dualshock 3 and Dualshock 4
Wiimote and Wii U Pro
Xbox 360 & 3rd party (driver required)
Sega Saturn USB
PS3 Neo Geo Pad USB
Logitech series (Dual Action, Rumblepad 2, Gamepad F310/F510/F710)
Gravis GamePad Pro
Retrolink SNES and N64
RetroUSB SNES RetroPort and RetroPad
Retrode (SNES)
Cores
OpenEmu is modular, and thanks to the work of other great open source projects, it can emulate a wide variety of video game systems (we call them 'cores'). Currently, the following open source emulation projects are used to power OpenEmu:
CrabEmu
DeSmuME
FCEU
Gambatte
Genesis Plus GX
Higan
Mednafen
NeoPop
Nestopia
Picodrive
Snes9x
TwoMbit
VisualBoyAdvance
... and more!
OpenEmu 2.0 requires OS X 10.11 or above


Added support for new systems:
- Atari 5200
- Atari 7800
- Atari Lynx
- ColecoVision
- Famicom Disk System
- Intellivision
- Nintendo 64
- Odyssey²/Videopac+
- PC-FX
- SG-1000
- Sega CD
- Sony PSP
- Sony PlayStation
- TurboGrafx-CD/PCE-CD
- Vectrex
- WonderSwan

Redesigned UI with a beautiful, modern look.

Added real-time gameplay rewinding.

Added Save States and Screenshots organizers.

Added Homebrew collection with over 80 great games.

Added automap support for SteelSeries Nimbus and Stratus XL controllers.

Optimized input handling to eliminate latency.

Fixed performance for certain GPUs.

Updated translations.

Other bug fixes and performance improvements.
Known Issues
Control mappings have been reset due to changes in the input system.

Previous Sega Genesis/Mega Drive save states have been removed due to unresolvable incompatibilities with the emulator.
comments powered by

Disqus
1976

Archivos totales

23

Categorías totales

4

Total de usuarios que han subido archivos

3908943

Total de descargas
CFW Ferrox CEX 4.82 Último archivo
Dekuwa Latest Submitter